Ratings & Reviews on Dangal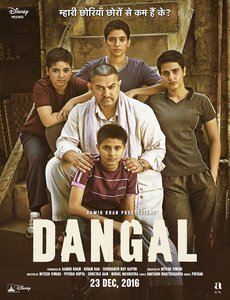 Watch Trailer
Dangal
Movie Released on Friday, December 23, 2016
95 Users (95.00 %) Want to see
5 Users (5.00 %) Don't want to see

Dangal is an upcoming Indian Hindi-language biographical sports drama film directed by Nitesh Tiwari. It stars Aamir Khan as Mahavir Singh Phogat, who taught wrestling to his daughters Geeta Phogat and Babita Kumari. The former is India's first female wrestler to win at the 2010 Commonwealth Games, where she won the gold medal (55 kg). Her sister Babita Kumari won the silver (51 kg). "Dangal" is the Hindi term for "a wrestling competition". The music for Dangal was composed by Pritam, while the lyrics were written by Amitabh Bhattacharya. Kripa Shankar Bishnoi, a coach with the Indian women's wrestling team, trained Aamir Khan and the entire crew for the wrestling sequences. Dangal is scheduled for release on 23 December 2016.
Writer : Nitesh Tiwari
Director : Nitesh Tiwari
Stars : Aamir Khan, Sakshi Tanwar, Fatima Sana Shaikh, Sanya Malhotra
Duration : 2 Hrs 15 Min
Rate this Movie and Get 20 Reward Points
(Please give your true opinion about the movie as it helps other members decide whether they should watch this movie or not. Incase you haven't seen the movie but heard about it from friends, then Rate the movie based on what you have heard.)
Please leave a review on this movie and Get Additional 100 Reward Points
Tell us why you liked it, or didn't like it.
You can write about the actors, actresses, storyline or scenes which you liked the most.
If you haven't seen the movie but heard about it from friends, then you can write about what you have heard.